Thermoforming Machines
INTRODUCTION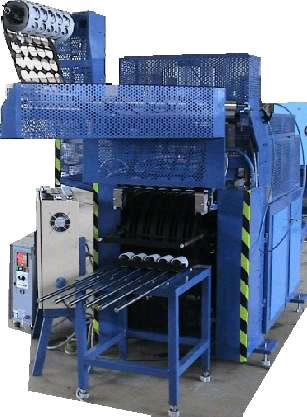 Plastic disposables, the world over have gained immense popularity especially as a throw away item for a wide variety of applications. The most economical method to produce these types of disposables is by thermoforming. A complete in-house plant to manufacture these containers right from extrusion to forming to printing and recycling the scrap is now available have emerged as the dependable source to supply such plants on a turnkey basis with all related accessories required to run the plant like moulds, air compressor, chiller, Scrap grinder etc. Basic raw material, high impact polystyrene, is used in the form of granules in the compact sheet line extruder and converted into sheets. These sheets are then fed to the thermoforming machine where it is formed into the desired container. The trim wastage thus generated is ground into very fine pieces in the grinder and then recycled into the extruder along with virgin material. Containers thus formed on the forming machine are beautifully decorated with a multi colour dry offset printing machine. Thus the plant is complete making it more lucrative and ideal for actual users and for commercial production.
MODEL

GTF - 4020

GTF - 5030

Forming Area

Length (max.-min.)

Width (max. - min.)

Draw (max.)

Max. Speed

Type of Material

Film thickness

Width of roll (min - max)

Power

Air requir (8 bar)

Approx. Dim. (LxWxH)
APPLICATION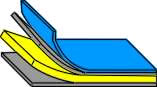 Varieties of thin walled plastic disposable containers like drinking- yoghurt glasses for hot and cold beverages, ice cream cups, fast food packing, tumblers, bowls, etc. Containers for strawberries and other agri products. Lunch/dinner/snack trays. Blister for batteries, toys and products of irregular shape and numerous packaging applications.
Forming station
Consists of heavy duty Die Pillar Set guided by linear motion push bearing and driven by set of cams coupled to the drive. Shaft mounted speed reducer with an adjusted V-belt and AC drive enable high and optimum production. Fine quality within walled disposable are formed by plug assisted pressure forming. Thin walled containers are formed, cooled, cut and ejected at the same forming station. This is a strong and balanced system for accurate forming cycle. Entire forming cycle is controlled by the cam movement. Die mounting and removal is also very easy.
Operation
The rolls extruded from the extrusion line is fed to the automatic forming machine. The roll placed on the machine is automatically unwind by an unwinding mechanism and pulled by toothed roll chain and conveyed to the heating station where the roll is heated to the desired temperature depending on the type and thickness of the material used. After heating the material moves forward to the forming station,. The material thus softened is clamped by the forming die, male plug from above descends, at the same time air pressure is applied to form the desired container. Unique design of in mould cutting trims the formed container within the mould so that the user obtains the final product. The trim wastage thus generated is also automatically wound by the scrap winder.
GALLERY
---
CUP PRINTING MACHINES
GALLERY
---
All machines MADE BY General Plastics
Very competitive prices